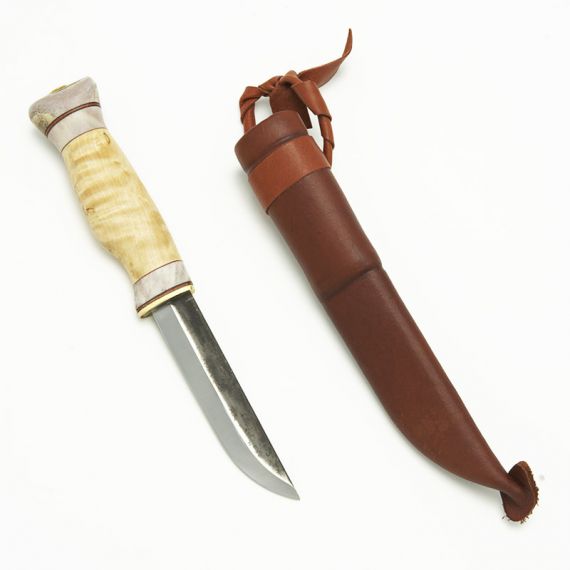 Finnish Wilderness Range
Manufacturer: Wood Jewel
Price: £52.00
Knives
---
Wilderness 10.5
This is a fine piece of handcraft made in the Finnish part of Lapland in a traditional northern Scandinavian way. This is a great multi-purpose knife that will stand tough usage in the forest, for hunting, fishing, carving, etc.
The blade is 10.5cm (4.2 inches) long, is Very Sharp and is made from Quality High Carbon Steel hardened to HRC 63-65 and tempered to HRC 59 to balance ductility and brittleness. The blade extends with an internal tang secured to the top of the handle with a rivet. The blade is natural unpolished carbon black except for the grind.
The handle is made from a combination of curly birch, thin layers of leather and reindeer antler. It has a well designed shape which fits well in the hand and it it is finnished off very smoothly without being slippery.
The sheath is made from wet-formed cow hide and it has a reindeer leather belt hanger attached to it.
---
Please Note: This item cannot be sent directly to customers. It can be paid for and collected in person from our shop or transferred to your local RFD. Please contact us for more information.
---