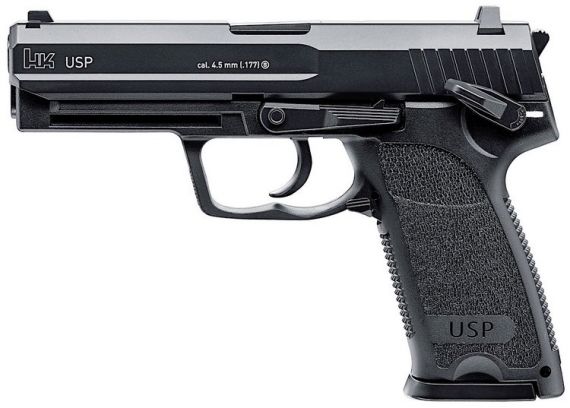 H&K USP
Manufacturer: H&K
Price: £99.99
Pistols
---
H&K USP pistol
CO2-powered
Uses one 12-gram CO2 cartridge
Shoots steel BBs
22-shot removable BB mag also holds CO2 cartridge
Double-action only
Fixed front and rear sights
Integrated Weaver accessory rail under the barrel (no slots)
Realistic hammer movement

This model of the H&K USP is made by Umarex under license from Heckler and Koch which means it is almost an exact replica of the original pistol and fires 4.5mm steel bbs making it cheap and easy to use.

The frame is made from a high impact polymer which withstands any knocks or bangs extremely well and will last for many years to come. The trigger is a double action unit and is fitted with a manual safety.
---
Please Note: This item cannot be sent directly to customers. It can be paid for and collected in person from our shop or transferred to your local RFD. Please contact us for more information.
---