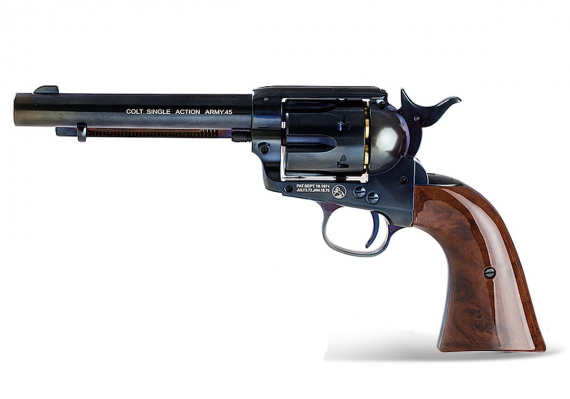 Umarex Colt Peacemaker 5.5" BB Blued, Nickel or Antique finish
Manufacturer: Umarex
Price: £184.99
Pistols
---
The eagerly anticipated Umarex Colt Peacemaker - available in 3 finishes - blued, nickel, antique. It's powered by a standard 12g CO2 cartridge and uses 6 dummy .45 Long Colt shells to hold the BBs (in the same way as Dan Wesson revolvers).
The most famous revolver of the American Frontier and Wild West age − the .45 caliber Colt 1873 Single Action Army model, also known as the "Peacemaker" − lives again in an airgun version manufactured in Germany by UMAREX
Manufactured under license, the UMAREX Colt "Peacemaker" revolver is 11" long overall, sports a 5.5" barrel, and weighs 900 grams/2lbs when unloaded; a 4,5mm replica, it is faithful in all details to the original revolver − which means that the cylinder loads one chamber at the time, and each chamber holds one 4,5mm/.177 steel BB only
---
Please Note: This item cannot be sent directly to customers. It can be paid for and collected in person from our shop or transferred to your local RFD. Please contact us for more information.
---
Colt Peacemaker revolver (Single Action Army)
12-gram CO2 cartridge
6-rd cylinder
Fixed front sight
Notch rear sight
Single-action only
Manual safety
Working ejector rod
2.00 lbs.
5.50" barrel length
11" overall length
Includes 6 shells (each shell is loaded with one steel BB)