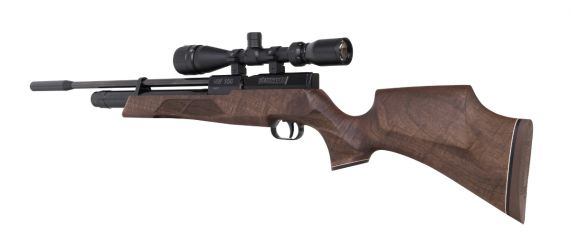 Weihrauch HW100S
Manufacturer: Weihrauch
Price: £975
Air Rifles
---
Weihrauch HW100S
---
Please Note: This item cannot be sent directly to customers. It can be paid for and collected in person from our shop or transferred to your local RFD. Please contact us for more information.
---
HW 100 S
Our new sporter, the first pre-charged air rifle from Weihrauch: excellent accuracy • vibration free shot release • fast and easy repeating • 14-shot magazine capacity • filled air cartridge with 200 bar • integral pressure gauge and quick-fill equipment • available in cal. .177" (4,5 mm) and .22" (5,5 mm) and in cal. 5,0 mm (.20") only in the FAC and 12 ft. lbs. / 16,3 J-version • well-balanced • two stage adjustable match trigger with manual safety.
The model HW 100 is equipped with a muzzle-break as standard. Against extra charge it can be supplied with moderator.
Handy and elegant sporter stock, oiled walnut, with checkering on the pistol grip and forearm, pistol grip cap